Our Philosophy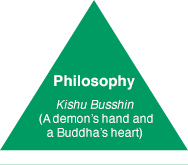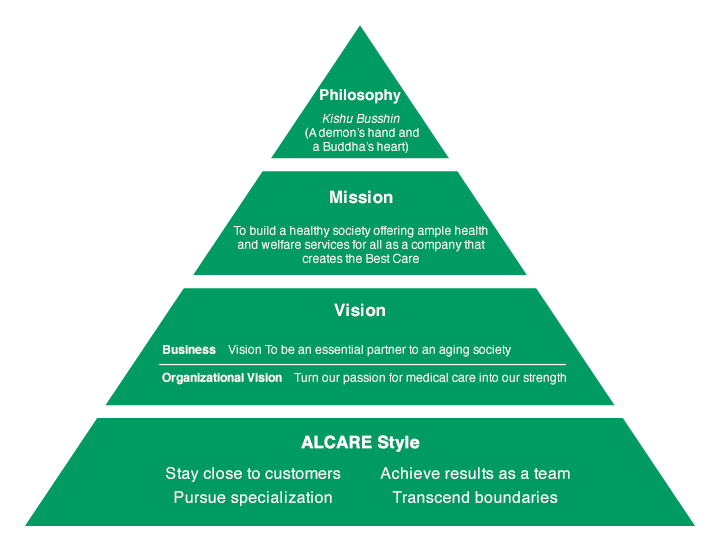 Philosophy
Kishu Busshin
Kishu Busshin is a coined phrase taken from Buddhist teachings that is also a statement of medical ethics. Kishu, the "demon's hand," refers to the hand of the medical professional holding a scalpel, while Busshin, the "Buddha's heart," refers to the desire to heal patients. It is because it has the benevolent heart of a Buddha that the demon's hand inserting the scalpel calmly is radiant as a thing of value. We see a company's earning of profits as the demon's hand and its return of those profits to society as its Buddha's heart, and in our efforts to maintain the optimal balance between the two, we will contribute to the growth and prosperity of society.
Our Mission
To build a healthy society offering ample health and welfare services for all as a company that creates the Best Care
Our mission at ALCARE is build a healthy society that offers ample health and welfare services for all by delivering the Best Care to all people who desire good health.
Our Vision
Business Vision
To be an essential partner to an aging society
We aim to be a partner that is essential in our aging society, delivering value that is unique to ALCARE through our business activities.
Organizational Vision
Turn our passion for medical care into our strength
Grow our people and organization. Demonstrate independence. Respect the individual.
ALCARE is brimming with people who are passionate about medical care. We aim to be an organization in which every person who works at ALCARE will improve their value as people, respect each other, and continue to produce results as they work to realize their own dreams, hopes, and goals.
ALCARE Style (Action Guidelines)
Stay close to valuable customers and medical professionals
Achieve results as a team
Pursue specialization
Transcend boundaries
These represent ALCARE's unique style of actions that we will take every day to realize ALCARE's vision.
Brand Message (Our promise)

These words represent ALCARE's promise to its stakeholders.
About "One Care, Better Life"