With Para-athletes
ALCARE supports those who are active on the global stage and triumph over their disabilities.
Blind Judo


Aramitsu Kitazono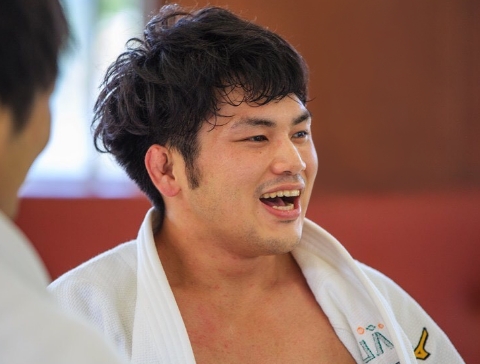 "It's your life, so you decide whether to move forward."
These are the words of my former teacher, who encouraged me to switch to blind judo. I might not have started blind judo were it not for these words. This huge life decision made me realize that it's okay to be different from others. I'd be happy if showing how I live my life to the fullest could be of some help to someone.
Profile
Date of birth: February 17th, 1991
Birthplace: Kobe City, Hyogo, Japan
I started judo at an early age. It began with admiration for Ryoko Tani's success. After that, I devoted myself to judo and entered Ikuei High School who had very strong Judo team. At that time, I was still competing as an able bodied athlete, but an examination upon entering university (Kyoto Sangyo University) revealed that I had retinitis pigmentosa (visually impaired). I then turned to blind judo.
At the London Paralympic Games, I competed when I was in the third year of university and came in 7th in the 100-kg class. I realized how competitive the class was and decided to make the most of my strengths in a lighter weight class, I competed in the 73-kg weight class, the lightest of three weight categories, at my second Paralympic Games in Rio de Janeiro after strict diets and training, and finished fifth.
Major results
2011

IBSA World Games in Turkey 100kg class 7th place

2012

London Paralympic Games 100kg class 7th place

2014

Incheon 2014 Asian Para Games 90kg class Silver medal

2015

All Japan Blind Judo Tournament 81kg class 1st place: Consecutive winner three years

2016

Rio de Janeiro Paralympic Games 73kg class 5th place
All Japan Blind Judo Tournament 81kg class 1st place: Consecutive winner four years

2017

Judo World Cup Uzbekistan tournament 81kg class Bronze medal

2018

Indonesia 2018 Asian Para Games 81kg class Bronze medal
All Japan Blind Judo Tournament 81kg class 1st place

2019

IBSA World Games Asia Oceania Championships 81kg class Silver medal
All Japan Blind Judo Tournament 81kg class 1st place

2022

All Japan Blind Judo Tournament 90kg or less class 1st place
Wheelchair Athletics


Atsuro Kobata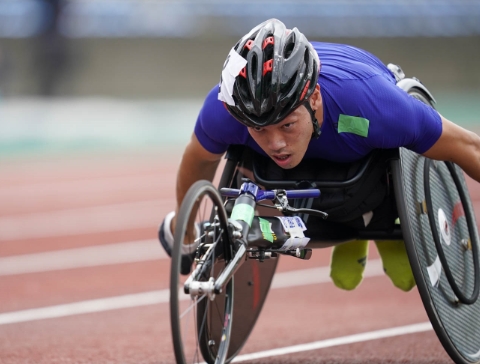 "Count the things you can do, rather than the things you cannot."
During my childhood, there were many things I couldn't do compared to those around me, and I imposed limits upon myself. But when I heard these words, I became fascinated by how cool wheelchair racing was, and learned the joy of taking on challenges. When I challenged myself without limits, I started to think of my disability as overwhelming individuality, and as my weapon. You can overcome anything. I hope anyone who sees me will think so as I continue to challenge myself without limits.
Profile
Date of birth: November 27th, 1993
Birthplace: Sakai City, Osaka, Japan
Born with congenital cerebral palsy. Introduced to wheelchair sports by watching a wheelchair basketball player perform in class in fourth grade, and started racing in junior high school.
Competed in the 100m and 200m as a representative of Japan in the London Paralympics at the age of 18. Finished at 9th place in the 100m, a frustrating step away from winning the prize.
Joined ALCARE Co., Ltd. in October 2017. Started working in the general affairs section as a business person, and training as an athlete. Using the frustration from the London Paralympics as a springboard, plans for body building through rigorous strength training while performing duties. Broke the Japanese record for the 100m (T34) on June 1, 2019 and became a Japanese record holder.
Major results
2009

Asian Youth Para Games 100m 1st place

2012

London Paralympic Games 100m 9th place

2014

Japan Para Championship 100m 1st place

2015

Japan Para Athletics Championship 100m 1st place

2016

Japan Para Championship 100m 1st place

2017

Japan Para Championship 100m 1st place

2018

World Para Athletics Grand Prix in Dubai T34 100m Bronze medal, 800m Bronze medal
Japan Para Championship Men's T34 100m 1st place, 200m 1st place, 800m 1st place
Japan Para Athletics Championship Men's T34 100m 1st place, 200m 1st place, 400m 1st place, 800m 1st place
Indonesia 2018 Asian Para Games Men's T34 100m Bronze medal, 800m Bronze medal

2019

Japan Para Championship Men's T34 100m 1st place, 200m 1st place, 800m 1st place

2020

Japan Para Athletics Championship Men's T34 100m 1st place, 400m 1st place, 800m 1st place
Kanto region Para Athletics Championship Men's T34 100m 1st place, 800m 1st place

2021

Japan Para Athletics Championship Men's T34 100m 1st place, 800m 1st place

2022

Japan Para Championship Men's T34 100m 1st place, 200m 1st place, 800m 1st place
Japan Para Athletics Championship Men's T34 100m 1st place, 400m 1st place, 800m 1st place