Brace Products
Braces that serve for joint protection, and maintenance of locomotorium.
Our Solutions
Precautions for Purchase
In principle, ALCARE's products should be used under the supervision of a medical professional. Please consult with medical professionals and ask for advice before purchasing our products.
Purchase / Selection
Simple attachment using the main belt only


Anyone can easily put on these braces due to their user-friendliness.

Just put on the main belt with a face-fastener around the waist, and attach the braces to it. You can put them on easily and quickly.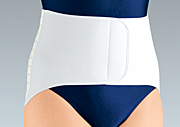 Precautions for Use
Use of breathing firm mesh fabric for the main material


Comfort during use is realized due to its sweat-absorption and drying ability.

The coarse texture of the mesh fabric assures excellent breathability, a cool feeling and comfortable fitting. The firm and sturdy mesh fabric guarantees satisfactory fixation.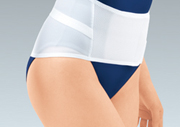 Precautions for Use
No interference with daily life


The thin design does not prevent movement, including forward bending and rotation.

A thin design devised with due consideration for activities of daily living (ADL) has been used in the light type and mesh type. These products do not unnecessary apply compression to the stomach or interfere with movements including forward bending and twisting at the waist. They allow an active daily life.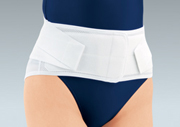 Precautions for Use